Big Bass Fishing... Florida
The best bass fishing charters in Central Florida!
Orlando Bass Fishing Guide
While Orlando may be best known throughout the world for the famous Disney World, many anglers would be surprised to learn that it is also home to some of the best bass fishing found in the entire country. In fact, many of these bass fishing lakes are in the Disney area and offer a chance at some big fish.
Orlando is home to some great weather almost year round, so you can expect the bass fishing to be great as well. While the theme parks may be exciting, nothing is quite as exciting as reeling in a giant bass on the end of your line!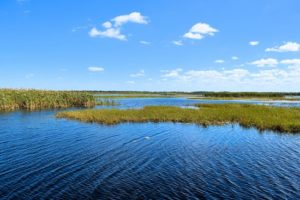 Some of Florida's best big bass lakes reside in Orlando. Of these lakes, Lake Tohopekaliga is one of the favorites. A part of the Kissimmee Chain, this lake is only about 25 minutes from the Disney World/Orlando area. It is often referred to as Lake Toho or West Lake by locals in order to discern it from the nearby East Lake Tohopekaliga.
Lake Toho sits at the top of the Kissimmee Chain, and has long been regarded as one of the best bass fishing lakes in the southeastern part of the country. Big, shallow flats full of grass and weeds help maintain a large population of baitfish, and in turn, big bass.
In addition to all of the helpful vegetation, the bottom of the lake has been improved by drawdowns to the lake's water levels. During a drawdown (when the lake water levels are down), a bulldozer will remove giant deposits of muck from shoreline areas. This creates plenty of great habitat and shoreline areas for spawning bass.
Sitting at over 22,700 acres, this lake is famous worldwide for its big bass. But while it may be a great place for big bass, it's not Orlando's only big bass lake. Other popular options include Lake Kissimmee, the Conway Chain of Lakes, and the Butler Chain of Lakes.
Lake Kissimmee, like Lake Toho, is a part of the Kissimmee Chain and sits at around 44,000 acres. It is a proven big bass lake and considered by many to be one of the most beautiful lakes in the entire state of Florida. Although popular for big bass, fishing pressure is still relatively light because of the vast expanse of vegetation in the lake. While this makes for some tough fishing conditions, it provides many places for baitfish and big bass to hide out, escaping capture from anglers and living to grow to big sizes.
The Conway Chain of Lakes is actually made of two separate lakes, but four different pools of water. The two lakes are Little Conway Lake to the North, and Conway Lake to the South. The four pools are called East, West, Middle, and South. While there is limited public access to these lakes with only one public boat ramp, the entire shoreline is developed. The clear water and sandy lake bottom makes these lakes a great spring and winter bass fishing area, and the bite can be excellent on most days!
Lastly we have the Butler Chain of Lakes. Formed by naturally occurring sinkholes in the earth, many parts of these lakes can be as deep as 30 or 40 feet. The entire chain of lakes, consisting of Butler, Down, Wauseon Bay, Chase, Isleworth, Louise, Tibet-Butler, Blanche, Pocket, Sheen, and Fish all offer great fishing, and have all been given the rating of "Outstanding Florida Waters" by the Department of Environmental Regulation of the State of Florida.
Of course there are even more lakes and ponds around Orlando that you can go bass fishing at, but these are some of the most popular and consistently produce some of the largest fish.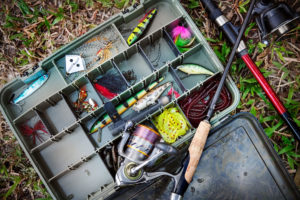 Most usual bass fishing lures and tactics will work with the big bass here in Orlando, but there are a few favorites that tend to stand out. Many anglers love using a worm or a senko. Using these two to flip and fish around grass, weeds, or pads tend to produce plenty of strikes, and the favorite colors in the area are June bug and Black and Blue.
Another popular lure for the Orlando area are flukes. A watermelon red color is the favorite in the area, and these things flat out catch fish. Try using them along the grass edges or even through some of the thinner grass and you will be amazed at how many strikes you will get!
If top water fishing is more of your thing, prop baits tend to work well at all of the Orlando bass fishing lakes. Try working it very slowly and give it plenty of pauses in the retrieve, and on the right days you will be rewarded with plenty of explosive strikes and some big fish!
Lastly, don't be afraid to try some swimbaits. Slowly fishing a swimbait through some grass or pads is a super simple tactic, but a very effective one. Give your swimbait as much lifelike action as you can, take your time, and you will be rewarded with plenty of bites.
Of course, don't be afraid to experiment with your own style or variety of lures and tactics. Trying out anything new can't hurt your success, and you may even discover something that works even better.
When most people think of Orlando, they think theme parks. While it's true that this city may have plenty, it is also home to some of the best big bass fishing found anywhere in the entire country. So what are you waiting for? Schedule that vacation, grab your bass fishing gear, and find out for yourself what you have been missing out on in Orlando!